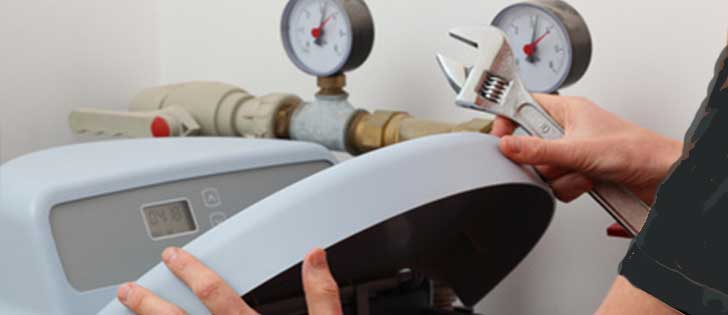 Water softener installation is a common practice today. It can be beneficial to your home (and your wallet) in many ways. Rainwater or 'soft water' normally contains low levels of minerals. Whereas hard water contains high levels of natural minerals and although it is not harmful to your health, hard water can cause several problems.
What is a water softener?
A water softener is installed as part of your mains water system and removes the calcium and magnesium from your water supply.
Why install a water softener?
The main reason why we recommend the installation of a water softener is it helps increase the lifespan of your plumbing and your clothes.
Hard water causes limescale to build up inside your piping and appliances (kettle, washing machine, showerheads etc) and on your taps, eroding and clogging the internal mechanisms. Your glassware comes out of the dishwasher looking foggy or spotty, your clothes can feel scratchy, and your hair will not feel silky or smooth even after conditioning.
Installing a water softener is the easiest way to eliminate such damage and provides numerous benefits.
Benefits of Installing a Water Softener.
Longer lifespan of appliances and pipes.
Healthier, Softer Skin.
Shiny, Strong Hair.
Softer, cleaner looking clothes.
Economic benefits (more effective water and heating system).
Choose ACR Plumbing and Heating.
If you are considering having a water softener installed in your home or business, contact us and we can talk over your options.
When you choose ACR you can be assured you are working with a company with over 30 years' experience. All our engineers are friendly, professional, and fully qualified.
What to Expect When You Choose ACR Plumbing and Heating
Fully qualified engineers.
Focused customer service.
Excellent rates and value for money.
Reliability (we turn up on time, and when we say we will).
 We Guarantee:
Prompt and consistent service
Economical prices
No hidden costs
Contact us on 01-4979383 or by email today for a quote and see what we can do to help you.