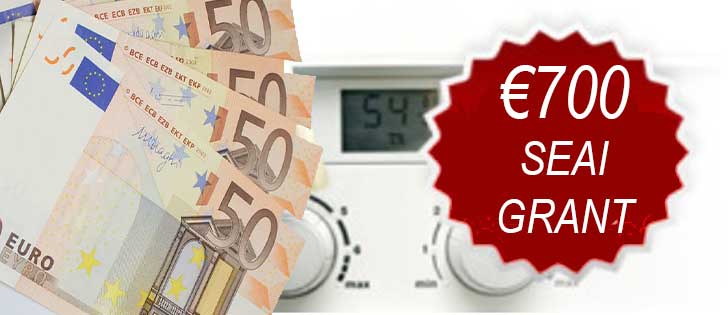 The Better Energy Homes scheme is a Government programme that gives fixed cash grants to homeowners to use for insulation and heating system upgrades. These upgrades are recommended home improvements can make your home more comfortable and cheaper to run.
You can get an extra €300 if you do three of the measures listed below and extra cash bonus if you get a fourth. And if you availed of the grant before, you can apply again if you get additional work done.
Better Energy Homes grants can be applied for when you make any of the following energy efficient improvements under the scheme:
Attic insulation
Cavity wall insulation
Internal dry lining wall insulation
Heating controls upgrade
Boiler Upgrade Solar heating
To be eligible for the Better Energy Homes scheme, you must:
Be a homeowner
Live in a home that was built before 2006
Use a scheme­ registered contractor
Save Money
Installing an energy efficient boiler in your home can save you up to 50% on your home heating bills. Lots of heat – or potential heat – is lost through inefficient appliances and poorly insulated walls and attics. You may not think these measures would make much difference to your energy bills, but you would be very surprised!
Energy Efficient
Also, older boilers are often less efficient than newer condensing gas boilers. ACR Plumbing and Heating can replace your old boiler – and your old heating controls – with newer more efficient models.
When your boiler is operating at only 90% efficiency you are wasting energy and money. If you replace your old boiler with a more energy-efficient boiler, that usually function at about 60% efficiently you can make sizeable savings on your energy bills.
Helping the Environment
Ensuring your home is energy efficient is your contribution to safeguarding our environment. Although gas central heating is in general cleaner and more efficient than other methods of heating your home, it isn't without its impact on the planet.
How to Get Your Better Energy Grant
Decide what form of upgrade best suits your home. You can do this by talking to a good building contractor, architect, energy advisor or gas installer like ACR Plumbing and Heating.
Select a registered contractor from the SEAI list of approved contractors like ACR Plumbing and Heating.
Fill out the online application form on the SEAI site. This approval process takes just minutes.
You now have six months to get the work completed on your home.
You will receive a form in the post called the "Declaration of Works" – one for each of the improvement measures you are getting done.
Return the form by post to SEAI, P.O. Box 119, Cahirciveen, Co. Kerry along with the Request for Payment form.
You will generally find your money in your bank account within four weeks.
There is lots of helpful information about the better energy grants on the SEAI website and this FAQs section can answer some of your questions.
How ACR Plumbing and Heating Can Help
ACR Plumbing and Heating are registered contractors with the Sustainable Energy Authority of Ireland (SEAI). This means that if you choose to use ACR Plumbing and Heating to upgrade to a more efficient condensing boiler or upgrade your heating controls, you can avail of the Better Energy Homes scheme. And as a registered contractor on the Better Energy Homes scheme, you can trust that we are fully qualified to get the job done properly.
When you choose ACR you can be assured you are working with a company with over 30 years' experience. All our engineers are friendly, professional, and fully qualified. 
Our rates are extremely competitive, and we carry out a full assessment of the work and provide you with a free, no obligation quote, so you never receive an unexpected bill at the end of the work.
Contact us on 01-4979383 or by email today for a quote and see what we can do to help you.