Living with the Irish weather can sometimes be a bit challenging. As it is not uncommon to have the four seasons visit us in one day, it can be hard to keep your home safe and dry. Thankfully, we have clement weather for most of the year, but when the cold arrives it can take us by surprise. The drop in temperature often leads to you discovering your pipes have frozen overnight.
Frozen pipes can be avoided and there are steps you can take to stop your pipes freezing and prevent costly damage to your home.
Prevention is Always Better.
Here are ways to prevent your pipes freezing:
Know where your stop valve is located, test it to ensure it is working correctly.
(You will use this if you need to shut off the water if a thawed pipe suddenly bursts or leaks).
Insulate any water pipes that are exposed to the cold along with those in your garage, roof, or attic.
Keep your home heating on low, use a timer switch (especially if your away from home for an extended period of time).
Have a friend or neighbour check that there are no damaged pipes while your away.
Keep all interior doors open (this will allow heat to circulate).
Try and reduce cold air coming into the home by closing all exterior doors and windows.
Seal up all holes or cracks.
Remove exterior hoses and close interior valves.
Ensure your roof is properly insulated to prevent cold air from coming in and freezing the pipes.
Locate Frozen Pipe
If one or more of your pipes become frozen after implementing the above prevention's try the following:
Identify what pipe or pipes are frozen.
Examine any exposed pipes outside your home (Its possible you will see the frozen part of the pipes. Check if any portion of the pipe is bulging).
Turn on your taps and if no water runs or its only a slight trickle the pipe feeding the tap is frozen. (there is likely to be more pipes frozen so keep checking).
Open both the hot and cold taps to help relieve any pressure in the system.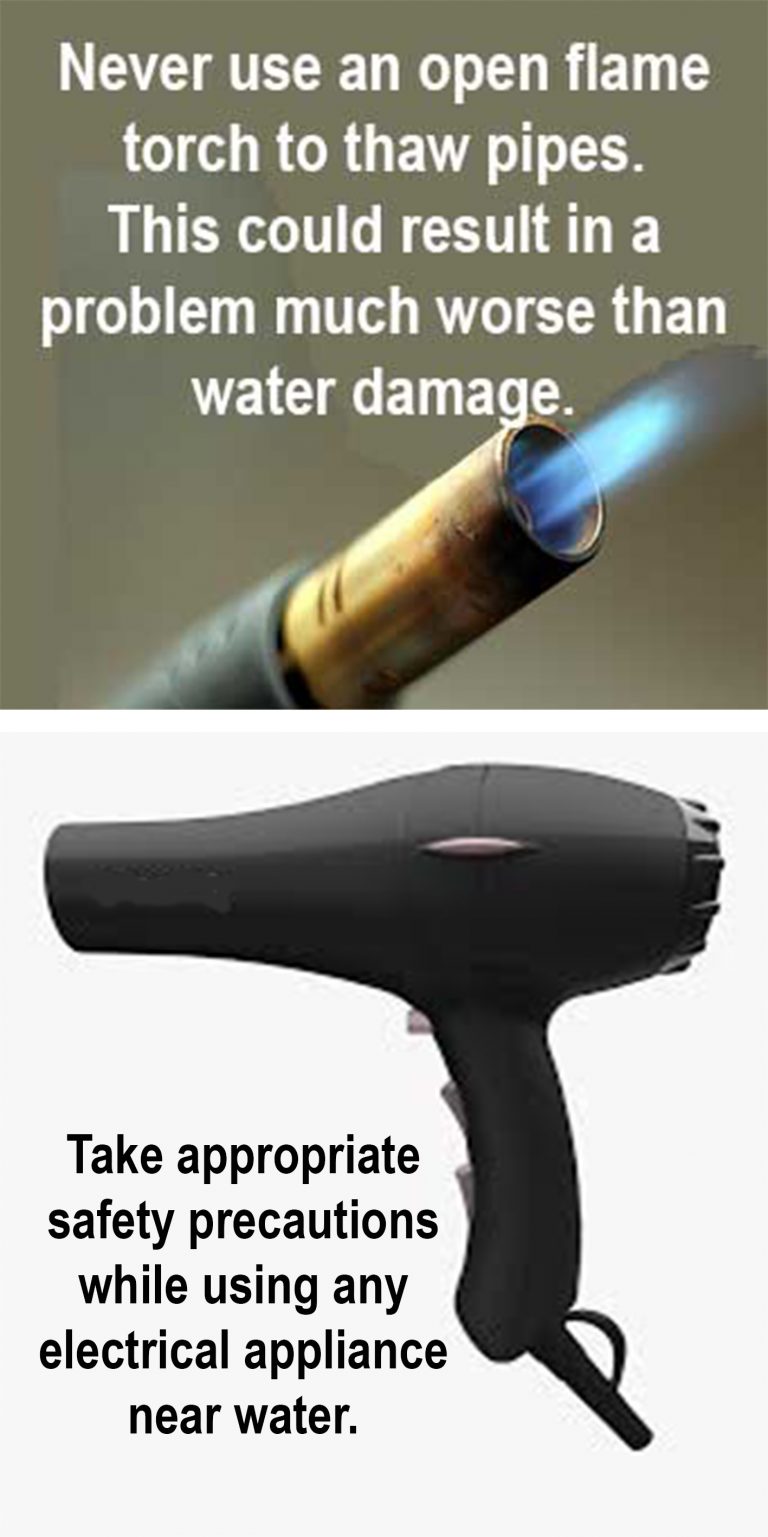 Thawing Exposed Pipes
If you can access the frozen pipe you can try the following:
Use a Hair Dryer – direct the heat at the pipe nearest the tap. Continue until the water returns to full strength.
Use Hot Towels – Dip towels into hot water and then wrap around the frozen pipe to allow it to thaw slowly.
Thawing Enclosed Pipes
Increase the temperature of your heating and open all internal doors to allow for circulation of hot air.
WARNING: *Never attempt to thaw a pipe using an open flame, such as a propane torch. This can not only damage the pipe, but it can also start a fire in your property.
What to do if a Frozen Pipe Bursts
If you do have the unfortunate situation of dealing with a burst pipe, you can take these immediate steps:
Turn off the water using the stop valve.
Ensure all taps and appliances are turned off to stop flooding potential.
Soak up or catch any leaking water with basins and thick towels to reduce damage to your home.
Call A Professional
If you cannot locate the frozen pipe or a pipe has burst, and if you do not feel comfortable trying to thaw the pipes yourself, it's time to call in the professionals.
Choose ACR Plumbing and Heating.
When you choose ACR you can be assured you are working with a company with over 30 years' experience. All our engineers are friendly, professional, and fully qualified. We understand how distressing and costly a burst pipe can be. We will turn up on time and when we say we will.
Our rates are extremely competitive, and we carry out a full assessment of the work and provide you with a free, no obligation quote, so you never receive an unexpected bill at the end of the work.
Contact us on 01-4979383 or by email today for a quote and see what we can do to help you.