How to Choose the Right Shower
Showers are probably the most important feature in your bathroom. Choosing a shower based only on their looks can be a costly mistake. Understanding your water system, and pressure is vital when selecting the one that best suits your needs.
For a shower installation in Dublin, you will not go wrong when you choose ACR Plumbing and Heating.  With over 30 years' experience of providing services to customers in Dublin, our team can provide not only the plumbing, but also the electrics and tiling that often accompany the installation of a new shower.
We can advise you on the best shower for your water system, available space and budget and we will ensure that you choose the right shower for your family's needs. Our expert engineers work with the top-quality brands on the market today (Trition & Mira Elite).
THE MOST COMMON RANGE OF SHOWERS
Electric Showers:  Electric showers heat water on demand, taking it from the mains cold water supply and passing it over a heating element inside the shower unit. They are probably the most versatile and are convenient showers to use.
Mixer Shower: A mixer shower is connected to both the hot and cold-water supply. They mix the existing hot and cold water in a valve before sending the water flow to the shower head. Mixer showers can sometimes have a stronger flow than electric showers. If your supply of hot water is plentiful and has a powerful flow mixer showers gives you more of a boost than an electric shower.
Thermostatic Showers: A thermostatic shower is a type of mixer shower which features a thermostatic valve that maintains a constant water temperature. The thermostatic valve mixes both hot and cold water together to a consistent and predetermined temperature. They prevent any sudden changes of temperature or water supply while showering. The thermostatic shower valve is mounted behind the wall.
Power Showers: A power shower combines water from your hot and cold-water supplies, in the same manner as a mixer shower would. The difference between a mixer and power shower is that a power shower then uses a pump to boost the pressure, which can make a big difference to those with low water pressure.
Electric Power Showers:  Electric showers are versatile and extremely convenient for when you want an instant hot shower. They are efficient as they only heat the water used and they are generally cheaper to run as they use less energy, less water and heat up quickly.  They work best if you have a gravity-fed system (a cold tank in the attic and a hot water cylinder in the hot-press).  They can also use an electric pump to increase water pressure.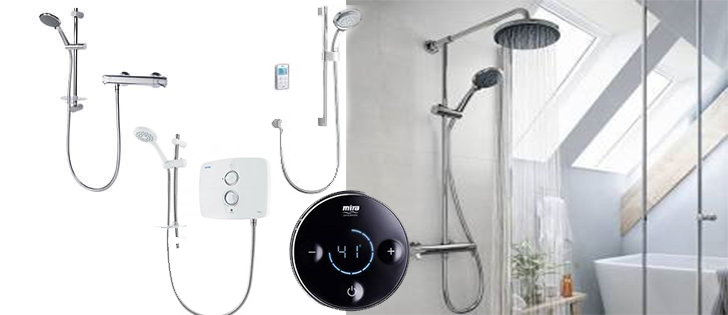 Our high-quality workmanship, friendly staff, and punctual services ensure that we have been able to maintain our excellent reputation. We fully assess and quote every job in advance, so you know that there are no hidden extras.
Call us today on 01 497 9838 and speak to one of our team about how we can help.