Shower Installations
ACR's team of bathroom installers are highly skilled and professional. With over 30 years' experience of providing services to customers in Dublin our team can provide not only the plumbing but also the electrics and tiling that often accompany the installation of a new shower.
For a shower installation in Dublin, your best bet is to get in touch with ACR Plumbing and Heating.  Not only can we take care of fitting your new shower, but we can also install a new shower cubicle if required – or even a whole new bathroom if you like! 
We can advise you on choosing the right shower for your family's needs and we install the top-quality brands on the market (Trition T90 & Mira Elite).
Currently there are six types of showers to choose from:
Digital showers.
Electric showers.
Mixer showers.
Shower towers.
Power showers.
Eco showers.
To learn more read our blog on How to Choose the Right Shower. 
Installation Process
We can supply and install your shower, or if you have already purchased a shower, we can simply do the installation alone.   We are very aware of how disruptive any work on your bathroom can be to your family. For this reason, our engineers will complete all work as quickly as possible without sacrificing on the quality of the work. Our team will also never leave a job unfinished or the workspace unclean.  
Following a visit to your home and viewing what the project requirements are, we will discuss what is needed and provide you with a FREE quote for the installation of your shower safely and to your satisfaction. You can rest easy knowing that you will never get an unexpected bill at the end of the job.
Regardless of what shower you choose you are most likely to requires the services of an electrician, plumber and tiler. With ACR we provide all the fully qualified tradesmen needed so you don't have the hassle of finding and coordinating different tradespeople.
Match Your Shower to Your System.
If you choose an electric or power shower, its installation process depends on what type of water system you have. If your cold water comes directly from the mains or you have a combination boiler, then you can choose between a mixer shower without a pump and an electric shower.
If you have a gravity-fed system (a cold tank in the attic and a hot water cylinder in the hot-press), you can choose between a power shower, an electric shower, or a mixer shower with or without a pump.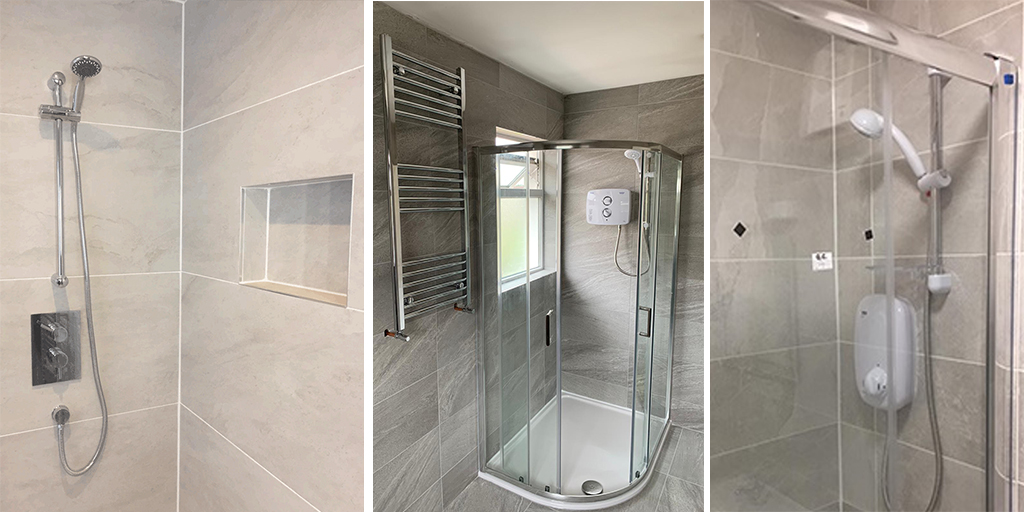 Cost of Professional Shower Installation
It typically costs about €1,200.00 plus vat @ 13.5% to supply and fit for a brand-new electric shower. This price includes all the new piping & electrics necessary for your shower installation.
If you already have an electric shower in place, but it's not working, it can usually be more cost effective in the long run to replace it. The cost to replace an existing electric shower, usually costs €450 plus vat @ 13.5%.  These prices are based on supplying & fitting Trition T90 or Mira Elite, which are the brands and models of electric shower we recommend.
You can rest assured that ACR Plumbing, and Heating are an established and reputable company, skilled not only in our trades but in our commitment to customer service.
Other Bathroom Services We Offer:
Supply and installation of complete bathroom suites.
Repair burst pipes and any leaks in your home.
Fit or repair taps, WC's, cisterns, baths, and basins.
Contact us today here or on 01-4979838 for a free, no-obligation quote.