WHAT SHOWER SHOULD I CHOOSE 
Choosing an electric or power shower installation depends on what type of water system you have. If your cold water comes directly from the mains or you have a combination boiler, then you can choose between a mixer shower without a pump and an electric shower.
If you have a gravity-fed system (a cold tank in the attic and a hot water cylinder in the hot-press), you can choose between a power shower, an electric shower, or a mixer shower with or without a pump.
TYPES OF SHOWERS
Electric. Electric showers heat water on demand, taking it from the mains cold water supply and passing it over a heating element inside the shower unit.
Mixer
Thermostatic
Digital
Gravity Systems
Combination (Combi) Boiler Systems.
ELECTRIC POWER SHOWERS
Electric showers are one of the most versatile types of shower available. They are very convenient when you want an instant hot shower.
They are efficient as they only heat the water used.
They generally are cheaper to run as they use less energy, less water and heat up quickly.
Electric showers work much better if you have a gravity-fed system (a cold tank in the attic and a hot water cylinder in the hot-press)
Electric showers take water from your cold-water supplies.
They can use an electric pump to increase water pressure. However, they rely on the pressure of your mains supply of water and you cannot connect to a shower pump if you have a combi boiler system.
MIXER SHOWERS 
A mixer shower mixes a hot water and cold-water supply to a chosen temperature.
They can work with either low or high-pressure supplies.
Unlike power showers they do not use a pump system and will not increase the low pressure of a water flow.
If your supply of hot water is plentiful and has a powerful flow mixer showers gives you more of a boost than an electric shower.
THERMOSTATIC SHOWERS 
A thermostatic mixer prevents any sudden changes in the water supply or temperature to the shower.
It maintains an exact water temperature for the duration of your shower.
As the thermostatic shower only uses hot and cold water as needed in the long run your water-heating bill should be reduced.
DIGITAL SHOWERS
Digital showers use electricity to run a thermostat to control water flow and temperature. They are easier to control and more accurate when it comes to water temperature.
Ideal when you are running late and in a hurry as there is no waiting for the water to heat up.
A digital shower has a digital thermostat within the shower unit. The thermostat controls the water temperature and ensures that regardless of what other appliances are in use in your home you do not have any changes in water temperature in your shower.
Digital showers are controlled by the thermostat and are more accurate than mixer showers in ensuring there are no spikes in temperature.
Combi-boiler heating systems will only work with digital showers.
GRAVITY SHOWER SYSTEMS
Gravity fed showers receive water from your cold-water tank in your attic and from your hot water cylinder in the hot press.
Gravity fed showers receive water under gravity and mixes them together to reach the desired temperature.
COMBINATION (COMBI) BOILER SYSTEMS
Combi boilers are dependable across electric, digital, and mixed showers and run off the mains pressure.
They are mains fed and so you cannot use a pump to provide a boost to the water pressure.
To ensure that your combi-boiler is powerful enough check the flow rate – it needs to be at lease 12-15 litres a minute.  The bigger the shower head the greater pressure required.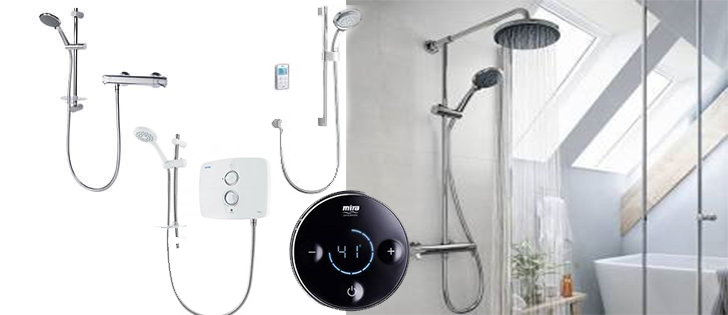 COST OF PROFESSIONAL SHOWER INSTALLATION
Most of the cost of a new shower installation is due to labour fees. And while you might think you'll save some money by having a go at doing it yourself, you may end up paying more in the long run. Repairing a botched job usually costs a lot more to put right than getting it done right to begin with.
It typically costs about €1,150.00 plus vat @ 13.5% to supply and fit for a brand-new electric shower. This price includes all the piping necessary for your shower installation.
If you already have an electric shower in place, but its not working, it can usually be more cost effective in the long to replace it. The cost to replace an existing electric shower, usually costs €450 plus vat @ 13.5%.  These prices are based on supplying & fitting Trition T90 or Mira Elite, which are the brands and models of electric shower we recommend.
You can rest assured that ACR Plumbing, and Heating are an established and reputable company, skilled not only in our trades but in our commitment to customer service.
Our reputation is built on trust, and we always ensure our customers are 100% happy with the service they receive from us.
We have over 30 years' experience within the industry, an impressive portfolio of clients and fantastic customer service history. We cover all parts of Dublin city and county and we guarantee:
Prompt and consistent service
Economical prices
No hidden costs
Free estimates
WHY CHOSE ACR PLUMBING AND HEATING FOR YOUR SHOWER INSTALLATION?
For a shower installation in Dublin, your best bet is to get in touch with ACR Plumbing and Heating.  Not only can we take care of fitting your new shower, but we can also install a new shower cubicle if required – or even a whole new bathroom if you like!  There is no need to hire tradespeople from different companies when we can do it all to the highest professional standards, and for the right price.
OTHER SERVICES WE OFFER:
Supply and fit new bathrooms, including all tiling and electrics.
Repair burst pipes and any leaks in your home.
Fit or repair taps, WC's, cisterns, baths, and basins.
Remove and replace all types of ball tap.
When choosing a new shower, you may see it as an opportunity to upgrade your heating system to a combi heating system that will provide all the hot water your home needs. This will provide you with options for installing a power shower that runs directly off the mains eliminating the need for having to wait for your emersion to heat  the water.
We are registered on the SEAI Home Energy Saving scheme for combi boiler and heating controls upgrade grants.
Contact us today here or on 01-4979838 for a free, no-obligation quote.